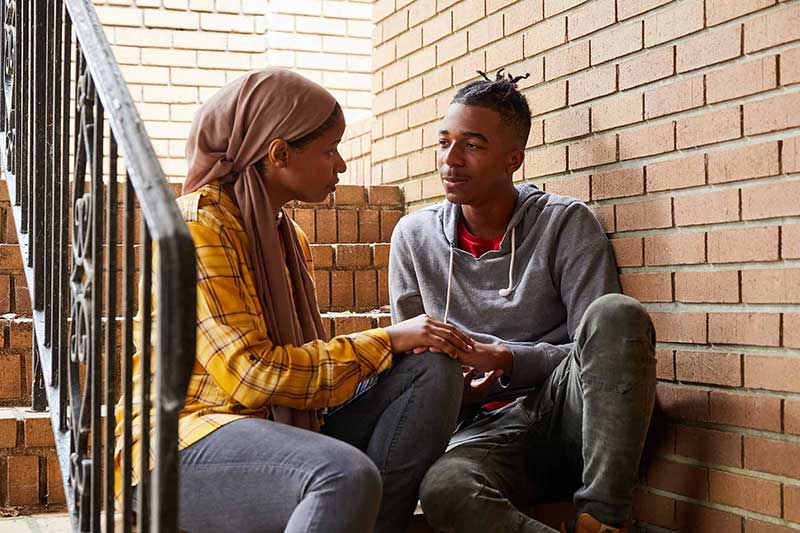 To parents of teens and young adults,
The novel coronavirus (COVID-19) pandemic is quickly changing our lives in so many ways. Beyond the illness itself, people are losing jobs, social interaction and a sense of normalcy. We are all struggling to adapt to this new normal and face the reality of the losses we are experiencing. As a result, many of us are feeling a very natural and normal response to loss: grief.
While we grieve our losses, we also need to acknowledge the grief teens and young adults are facing. Their losses may not seem as heavy as the world's, but their losses are significant to them—and they matter. We can't ignore what's happening to them and potentially to their emotional wellness, too.
At the very least, social distancing and sheltering-in-place are causing teens and young adults (not just seniors) to miss out on events and experiences that help shape them, including:
Big school events, like proms and graduations.
Traditional experiences, like end-of-the-year parties and spirit weeks.
Accomplishments, like theater productions, sporting events and academic competitions.
They've worked hard and dreamed big for weeks, months or years, and they deserve to grieve for these losses. And kids aren't the only ones who put in the work to now feel let down. Parents, I can only imagine the grief you're feeling about not being able to see your kids walk across the stage at graduation, not getting to take pictures before prom, or not getting to celebrate a successful season or performance after you've been the one taking them to practice or rehearsal all these years. That's a big deal.
When someone is grieving, it can be hard to find the right words to say. It's tempting to ignore the conversation altogether, but grief is a process—it needs to be acknowledged and worked through. One of the best things you can do is simply be there and listen. A lot of times, teens and young adults just want to feel seen and heard.
It's OK to not have all the answers, but here are some general tips to keep in mind when talking to them about their grief:
Ask how they're feeling and actively listen. Ask open-ended questions, such as, "I know you're missing out on a lot of plans right now. What's on your mind?" You may be surprised by how they open up to you.
Acknowledge their feelings and let them know it's normal and OK to feel what they feel. Avoid saying things like, "This is just going to make you stronger" or "There are bigger issues right now." While it's tempting to simply say everything is going to be OK or put their worries into perspective, this doesn't help them acknowledge or work through their feelings. Instead, it minimizes their feelings and can keep them from sharing in the future.
Suggest alternatives for communication if your teen doesn't feel like talking. Journaling, or other creative outlets, can help them process their feelings, too.
Once you have helped your teen or young adult acknowledge their feelings, you can help them accept what can't be changed and instead focus on what is within their control. They cannot change the fact that this is happening, and it has resulted in loss, but they can control how they deal with it.
Encourage them to find healthy ways to cope. For some, that may mean trying various relaxation exercises, such as journaling, deep breathing, grounding, progressive muscle relaxation or guided imagery. For others, they may choose to channel their energy into finding creative solutions, such as using technology to have virtual celebrations with teachers and classmates. Or, for a teen or young adult who has been struggling to still feel a sense of independence while at home, they may look for opportunities to build independence and confidence in a new way, such as learning to cook a meal or taking on a new project. And we all need to try to get restful sleep, plenty of physical activity and balanced nutrition to take care of our minds and bodies, as well as reduce stress.
The weight our teens and young adults are feeling from loss is significant. And some may be affected more deeply by anxiety, depression or other mental health conditions.
Check in with your kids regularly and maintain an open dialogue about their feelings and experiences. If you're concerned about your child's emotional wellness, ask for help. Many mental health professionals are currently providing services online or over the phone.
Wishing all the best to you and your family,
Jody Baumstein, LCSW
Licensed therapist with Children's Healthcare of Atlanta Strong4Life
Call or text 988 if you or a loved one are experiencing thoughts of suicide, self-harm or any mental health crisis.
You can also chat or text for support by downloading the MyGCAL app in the App Store or on Google Play.
Any thoughts of suicide should be taken seriously.
About The Author
Jody Baumstein, LCSW

Jody is a therapist, with a license in clinical social work, developing emotional wellness programming for Strong4Life.