About Bariatric Weight Loss Surgery at Children's
If your family is thinking about bariatric surgery, we know you have questions. We're here to listen, and we're happy to answer. Here are a few frequently asked questions about our surgical services at the Strong4Life Clinic Bariatric Program that might help.
---
What is bariatric surgery?
Bariatric, or weight loss surgery, is a treatment for severe obesity.
This surgery is an effective tool to help prevent or reverse the complications of obesity such as:
High blood pressure
Type 2 diabetes
Sleep apnea
Joint issues
Other conditions
The surgery generally helps teens lose approximately one-third of their weight.
The most common bariatric surgery performed at Children's is the laparoscopic vertical sleeve gastrectomy. This surgery removes a portion of the stomach, which then limits the amount of food that can be eaten.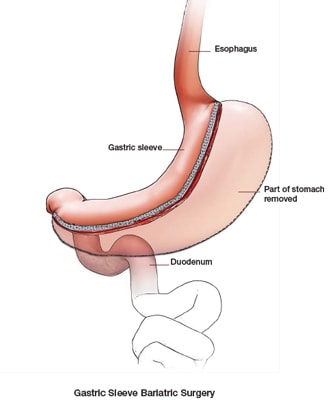 Should teens have bariatric surgery?
For teens who qualify for the surgery, many physicians agree that the risks of being obese outweigh the risks of surgery.
Here are a few more strong benefits to consider:
Studies show that bariatric surgery can increase your life span.*
Most teens who have bariatric surgery can reduce the number of medicines they take, sometimes even stopping the medicines altogether.
Teens undergoing bariatric surgery often report improved self-esteem, increased energy and a big boost in their quality of life, including emotional, mental and physical health.
It is important to keep in mind, bariatric surgery works best when there is a commitment to lifestyle change. A team approach, which includes you, your family and the doctors, is very important for lasting success.
*Adams, T.D., et al. Long-Term Mortality after Gastric Bypass Surgery. New England Journal of Medicine. Vol. 357:753-761
Are there risks associated with bariatric surgery?
The Strong4Life Clinic team will work to make sure your teen is both a good candidate and in the best possible health before setting a date for the procedure. Our No. 1 priority is your teen's safety.
Weight loss surgery is laparoscopic. That means your child's surgeon will be using small incisions and sophisticated instruments, which increases surgical safety and lowers the infection and bleeding risks. The surgery is considered safer than gallbladder removal, hip replacement and many other far more common surgeries.*
The average hospital stay for teens undergoing gastric bypass surgery is only 1 to 2 days. Your teen may be able to return to school or work within 2 weeks.
*Dolan, J.P., et al. (2009). National mortality burden and significant factors associated with open and laparoscopic cholecystectomy: 1997-2006. Journal of Gastrointestinal Surgery. 13(12) pp. 2292-2301. Accessed October 2013 from http://www.ncbi.nlm.nih.gov/pubmed/19727976
Is my teen eligible for bariatric surgery at Children's?
We follow the National Institutes of Health guidelines on eligibility for adolescent bariatric surgery.
To be eligible for surgery teens, must meet these requirements:
BMI (Body Mass Index) greater than 35 with weight-related health problems or a BMI greater than 40
Minimum of 6 consecutive monthly visits to the Strong4Life Clinic
What does post-bariatric surgery care and support look like
Long-term weight loss
For the sleeve procedure, teens typically achieve good results, though regaining weight is possible.
It's important to remember that weight loss is an individual experience. Not everyone will have the same results.
To see how weight loss could change over time after bariatric surgery at each 6-month follow-up appointment, use this interactive weight loss calculator. This calculator uses the results of a large group of patients who have had gastric surgery. The numbers shown are only estimates based on research data.
Recovery after surgery
The average hospital stay for teens undergoing the sleeve procedure is only 1 to 2 days. Your teen may be able to return to school or work within 2 weeks.
While patients should expect some physical limitations in the first month to ensure proper healing, we encourage walking daily as it is an important part of recovery.
At the 1-month post-op appointment, the Strong4Life Clinic team will complete an assessment of recovery. After that, your teen will likely be cleared to return to full activity, including going to the gym.
Long-term care after surgery
We want to give your family our support! To help keep your teen healthy and ensure goals are on track, you can expect yearly follow-ups until the transition into adult care.
Patients in our bariatric program can click here to access a pdf of the pre- and post-operative nutrition manual

Children's offers free confidential support groups both before and after bariatric surgery. Group meetings—led by a professional staff member—are a great place for you and your family to connect with other families in the program. Having social support has been shown to contribute to losing weight and keeping it off. Group topics include nutrition, mental health, physical activity and general wellness.