5 Ways to Develop Independence in Kids and Teens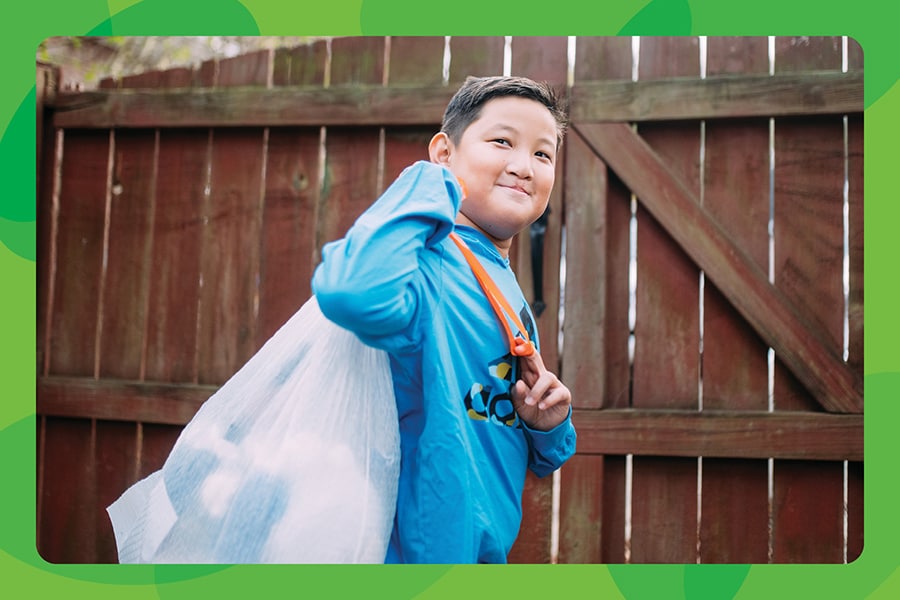 We all want our kids to grow up to be able to cook for themselves, clean their homes and manage their day-to-day lives. But we have to teach them if we want them to be independent. And it starts by laying the foundation when they're young.
Many times, it may be easier, faster and cleaner to do things for kids and teens, rather than letting them do it on their own. But giving them opportunities to practice independence can boost their confidence and build their resilience, so they can better handle life's ups and downs. Read on to learn how to develop independence in kids.
Download these tips for developing independence as a printable PDF.
---

How to develop independence in kids and teens by giving them daily tasks
If we want kids and teens to develop independence, we have to start teaching them the basics when they're young. By being included in regular tasks and routines from a young age, they're learning early on that contributing to the household is important. And kids often like feeling a sense of purpose.
For example, when cleaning up, instead of putting on a movie for the kids, give them a job. Although it may take a while for them to do it well (and without making more of a mess), we're teaching that they share the responsibility of keeping the house clean. We're also helping them to see that they're capable of contributing, and that their contribution matters.
Pro tip: Visual reminders can be useful tools to help kids learn household expectations. Try using a visual schedule, chore chart or other visible tool to help them remember and complete their responsibilities and routines.
How to help kids and teens without doing everything for them
It's natural to want to help kids and teens. That is, in fact, our job as parents and caregivers. But helping them and doing everything for them are 2 different things.
If we're constantly doing everything for kids, they don't learn to do things on their own. It can also make them less interested in learning and hurt their confidence by making them think they aren't capable. When giving them opportunities to practice things on their own, consider the following steps:
Show them how to do it first. For example, tie their shoes for them, and talk them through the steps as you show them.
Do it with them. After you've shown them, put your hands over theirs to guide them through it with your help.
Let them try on their own. Next, give them a chance to try it on their own when you're not in a rush.
Offer feedback as needed. If they're struggling, ask if they want suggestions or help. If they do, don't jump in and take over. Instead, talk them through it, or guide them by placing your hands over theirs.
Will it take longer? Probably at first. Will it be frustrating? Sometimes. Will it be messy? Potentially. But will they learn to eventually do it on their own? Absolutely, and that's the goal.
How to build independence in kids and teens by letting them make decisions
When kids and teens practice making their own decisions, they're building confidence and growing in their ability to think for themselves. This can help them to be more independent as they get older, because they're able to think about what they want and take steps to make it happen.
Before panicking, keep in mind that this doesn't mean letting kids do whatever they want. We're offering limited choices, or age-appropriate independence, while we maintain control. We decide what choices to offer, and they practice making choices. Here are some examples of limited choices:
| Instead of … | Try … |
| --- | --- |
| "You need to put on your shoes so we can go." | "Do you want to wear your red sneakers or blue sneakers today?" |
| "I can't do anything until I unpack the groceries. Why don't you go play without me?" | "These groceries need to be unpacked before I can play. Do you want to help me unpack them, or would you like to play on your own until I'm finished putting everything away?" |
| "What would you like for breakfast?" | "Would you like oatmeal or yogurt for breakfast?" |
| "When are you going to do your homework?" | "Do you want to do your homework now and then take a break, or take a break first and then do your homework?" |
How to teach kids and teens independence by focusing on their effort
We've all tried something that doesn't end up working out. If you've felt like a failure and avoid doing it again, you're not alone. And if adults feel this way, imagine how kids and teens feel in these situations! Some kids may worry about failing so much that they don't try at all. This fear can stop them from taking risks and trying new things now and as they get older.
If we focus only on the outcome, kids are unlikely to try difficult things. But when we focus on their effort, it can be more motivating and build kids' confidence as they learn to do things on their own. Here are some examples of focusing on their effort instead of the outcome:
Celebrate your toddler's effort to share their toys, even if it only lasts for a minute.
Encourage your child to notice how they felt while working through a tough problem.
Praise your teen for how hard they worked on an assignment, rather than commenting on their grade.

How to foster independence in kids and teens by allowing safe mistakes
Everyone makes mistakes; they're a part of life. As hard as it may be to see kids and teens struggle, resist the urge to step in too early to fix it. Instead, give them opportunities to learn from their mistakes. Here are a few examples of safe mistakes:
A preschooler wearing their shirt backward after dressing themselves
A grade schooler being tired all day after staying up too late reading
A preteen turning a load of laundry pink after forgetting to remove a red sock
A teen failing a test after not studying
Teach them problem-solving skills by encouraging them to talk about what happened and think about what they can do differently next time.
Keep in mind that safety should always come first when allowing mistakes. Don't hesitate to step in if they're at risk of harming themselves or someone else.
How developing independence in kids and teens helps them in the future
Developing independence in kids doesn't happen overnight. It takes time. Try to be patient and think about how it's benefiting them in the future. Know that in the small, everyday moments, we're helping kids build confidence and teaching them how to do things they'll need not just now, but into adulthood, too.