How to Entertain a Toddler While Feeding a Newborn
We know that newborns require a lot of time and attention since they need to nurse or have a bottle every few hours throughout the day, but what happens when you need to care for both a newborn and a toddler? One of our Strong4Life experts, exercise scientist Kathleen Smith, just went through this with her children and is sharing some of the tricks she found to be most helpful for keeping all the kids happy.
---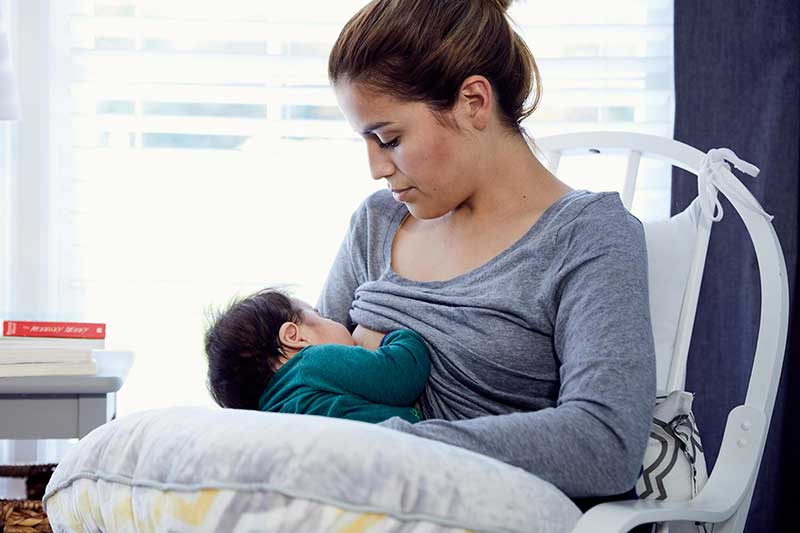 Finding a balance
When Smith brought her youngest son home, she struggled to find a balance between nursing her new baby and giving her older child the attention he needed. "In an ideal world, someone would always be on hand to help entertain my older son, but that was rarely the case. When I did have someone to help, it was great to have the one-on-one bonding time with my new baby, and it made it a lot easier to pay attention to his hunger and fullness cues," says Smith. But again, the reality is that she couldn't always rely on someone to keep her oldest occupied, so she had to get creative.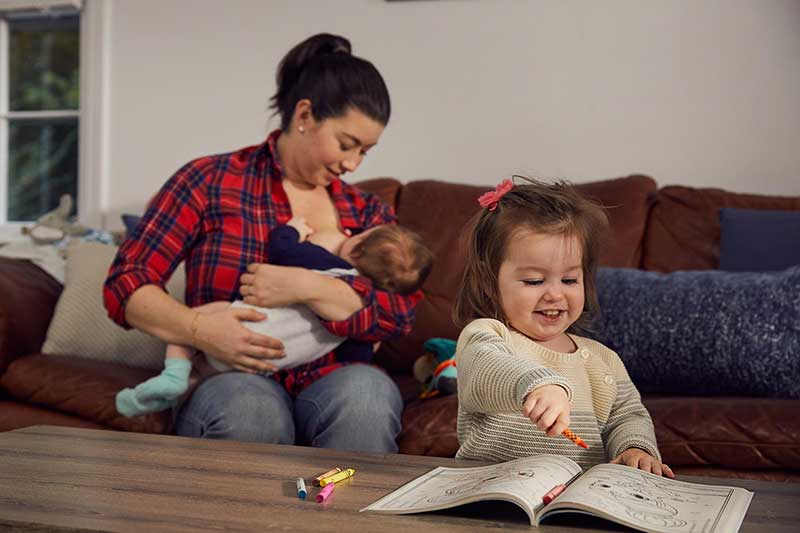 5 tips for entertaining a toddler while feeding a newborn
Here are some things that worked for Smith:
Get out a board game! Many games, such as Connect 4 or Memory, can be played without having to use your hands too much. Or you can ask your toddler to help you move the pieces around when it's your turn.


Feed your baby in your older child's room or a play area so they can play with their favorite toys or read a book. You can watch and engage with your older child while feeding your baby in a chair or glider.


Give your older child an activity or a coloring book—something they can do on their own while you feed the baby. If your older child is in a giving mood, ask them to make something colorful to hang on the wall or the refrigerator (maybe it can even be a gift for the baby!). Just resist the urge to turn on the TV for your older child.


Plan ahead and, before you settle in to nurse or bottle-feed, make sure your older one doesn't need to go to the bathroom or have a snack. Your child may not understand if you can't see to their needs right away or if you ask them to wait until their little sibling is finished with the feeding.


Schedule a play date and have a special friend come over. The older kids can play together while you feed the baby, and if the other child's parent can come over, they can help watch the big kids while you focus on the littlest one.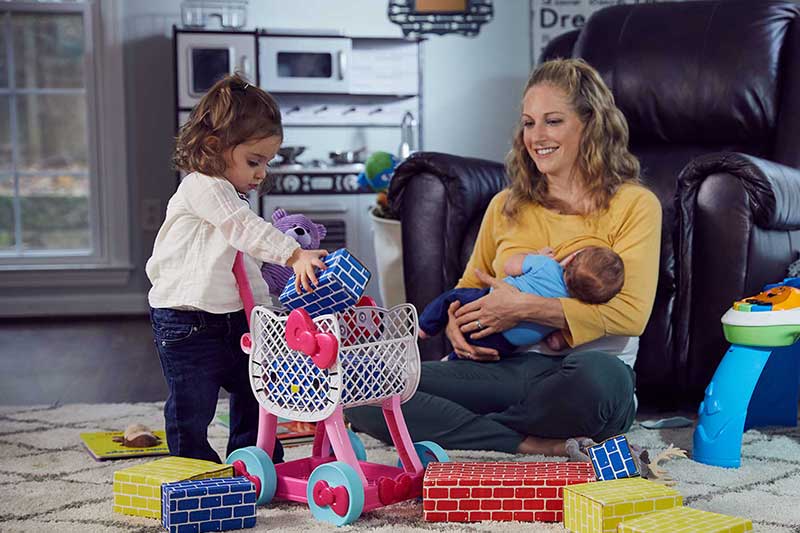 Be kind to yourself and just do your best
Here is one last piece of advice from Smith: "It would be great if you were able to give both of your kids all of your focus and attention, but that is not reality! Just do your best, and know that your babies are lucky to have a parent or caregiver who cares so much about them. There are going to be meltdowns, and you won't be able to please everyone all of the time, but that's OK! Being a parent to one kid is not easy, and it only gets more difficult when you add more kids into the mix. So be proud of the little wins, no matter how little they are."