Creating & Sticking to an Effective Family Routine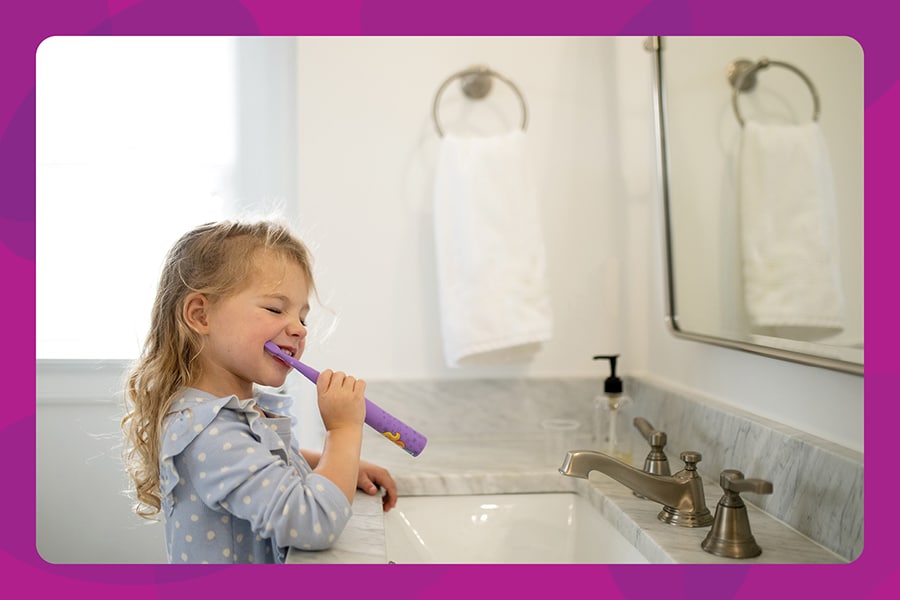 Are you more edgy or irritable when your routines are out of whack? Maybe it's been a few days since you've gone on your daily walk or enjoyed your morning cup of coffee. Even a few days without our regular routines can leave us feeling uneasy.
Routines are important for everyone—kids and teens included. When we establish routines, everyone knows what to expect, which can create a sense of comfort and safety. Routines can help our household stay on track and remind us to slow down, connect with loved ones and do things that we enjoy. Read on to learn about how to create effective routines the whole family can get behind.
Download these tips for developing routines as a printable PDF.
---
How to set realistic expectations with kids and teens around family routines
Have you ever set lofty New Year's resolutions, only to let them fall by the wayside a few weeks later? The same is true for routines. If we're overly ambitious when creating new routines, it can be hard to stay consistent. Here are ways to set realistic expectations around family routines:
Start small. Adding too many routines at once can be overwhelming and stressful for everyone. Start with 1 or 2 new routines, and stay consistent.
Practice. Developing consistent routines takes practice and repetition. Be patient with everyone (including yourself). You're all learning.
Try again tomorrow. Routines won't always go according to plan. When family routines get off track, try not to give yourself a guilt trip. Practice self-compassion, and get back to it when possible.
Be flexible. You may find that a routine isn't working. Be flexible and adjust routines as needed.

How to get kids and teens involved in creating family routines
Including kids and teens in creating routines can help them feel a sense of ownership, which can make them more likely to participate consistently. Ask these questions and get their input when establishing new family routines:
What are some things our family has done together in the past that you enjoyed, but that we haven't done in a while?
What are some of your favorite things to do together as a family that make you feel energized? What about things that make you feel calm?
What are some things our family needs to remember to do more consistently each day or each week?
What could our family all do together more often?
Let's think about our typical day/week. What do you think is working? What might need to change?
How to create balanced family routines
Routines can help us stay on track with our responsibilities and prioritize our wellness. Here are different types of routines to try with the whole family:
Healthy habits: Practicing healthy habits regularly not only supports our physical health, but it can have a positive impact on our mental health, too. Try creating routines to help everyone prioritize their overall wellness.

Have dinner together as a family at least once a week.
Go for an evening family walk.
Follow a nightly bedtime routine.

Communication: Having conversations regularly can help kids and teens learn that it's normal and OK to talk about everything, including any and all feelings. Make it a habit to keep open communication with kids and teens.

Have regular feelings check-ins. Try using our Strong4Life feelings charts to help get the conversation started.
Ask for highs and lows during dinner, during which everyone shares their favorite and most challenging parts of the day.
Ask kids about their day while walking the dog or driving to after-school activities.

Coping skills: Coping skills are things we can all do to manage stress and handle feelings. It's hard to use new coping skills in the heat of the moment, so it's important to practice them when everyone is calm. Proactively practicing coping skills can actually help prevent some stress from happening in the first place, so we should try to use them all the time—not just during times of stress. Try incorporating a variety of healthy coping skills into family routines.

Listen to a favorite song on the way to school.
Go on a bike ride every weekend.
Take a few deep breaths with your child as part of their bedtime routine.

Fun: Making it a habit to have fun together can help the entire family feel more connected and balanced.

Have a weekly family movie or game night.
Read a chapter of a book aloud together every night before bed.
Practice the same family traditions around the holidays every year.

Household responsibilities: Certain chores might need to be done daily, or even multiple times a day, while others might need to be a weekly routine. Try using a chore chart to help kids remember their responsibilities.

Make the bed every morning.
Wash, dry, fold and put away laundry on laundry days.
Give the cat food and water every morning and evening.
How to communicate with kids and teens about changes to family routines
We can't always anticipate a change of plans. But when you know about changes in advance, try to help kids understand how they may affect family routines. Think about their needs when deciding how to communicate with them. For example, some kids are comfortable after talking through a change, while others need a visual schedule or reminder that something new is coming up. Some kids may even benefit from role-playing scenarios ahead of time.

How to help kids and teens stay consistent with healthy habits
As parents and caregivers, it may feel like there's no time to keep a consistent routine of practicing healthy habits. But if we want kids and teens to grow up to become adults who care for themselves, we have to show and teach them how to do it, starting when they're young. Here are a few tips to make healthy habits routine:
Make connections between actions and feelings. Talking about cause and effect can help kids learn the benefits of self-care and healthy habits. For example, "I got a great night's sleep last night, and I feel more focused today."
Let go of an all-or-nothing mentality. If you're short on time, try doing a modified version of an activity. For example, if you can't take your daily walk, take a few 5-minute movement breaks throughout the day.
Celebrate what you can do. Instead of giving yourself a hard time for getting off track, recognize and celebrate what you're doing to care for yourself—even during times of stress. For example, "Even though it's been a busy week, I'm glad I've been eating balanced meals and staying hydrated. That's helped me feel more energized throughout the day."
Keep in mind that practicing healthy habits is self-care. It isn't selfish to take care of yourself. Eating balanced meals, moving your body, getting quality sleep and expressing your feelings are all parts of practicing self-care.