How to Keep Your Child Safe at Camp
Sending your child to a summer camp is a great way for them to be active, be social and learn new skills. From day camps focused on theater and the arts to overnight sports and adventure camps, kids have no shortage of opportunities to explore.
While you're prepping for camp and checking off packing list items, don't forget summer camp safety information. Read on for tips to keep your child safe at camp.
---
How do I choose a summer camp for my child?
When choosing a summer camp, the American Academy of Pediatrics recommends thinking about your child's age, their personality and their interests so that you enroll them in a program that's enjoyable for them.
The AAP also suggests that you choose a camp that's accredited by the American Camp Association to ensure it's a safe and nurturing environment. You'll also want to consider asking camp staff members about:
The child-to-staff ratio
How they handle minor injuries and illnesses
Their experience with special needs children if that's something your child requires
Any swimming requirements
Other requests for campers, such as vaccines and physicals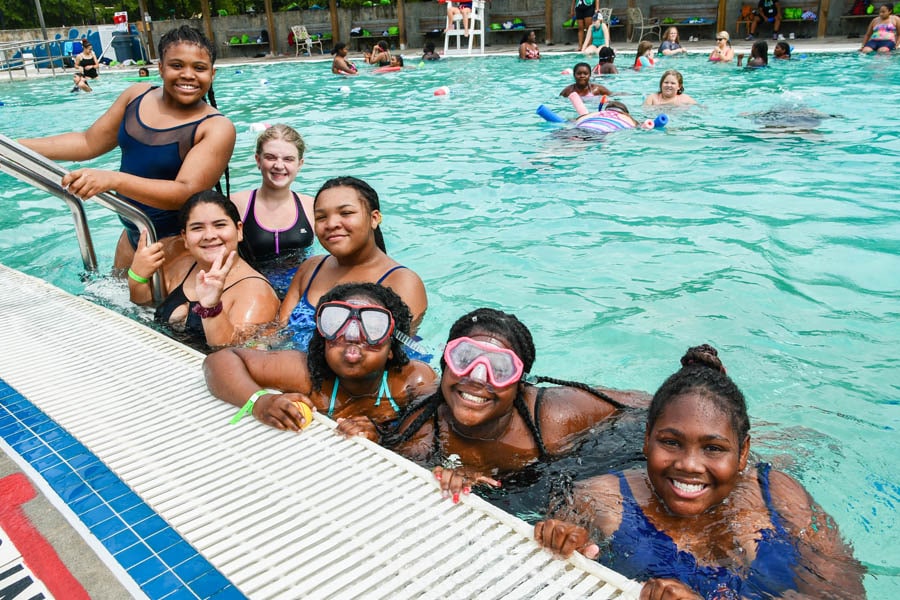 How to keep your child safe at camp
Because you likely will not be at camp with your child, here are some ways to prepare them for their time away.
Talk about the activities your child will be doing, and be prepared for any safety requirements. Some examples:
If your child's camp offers swimming or other activities around water, consider completing swim lessons before camp if your child is not a strong swimmer. If you are not able to complete lessons, talk to camp leadership about supervising your child around water. Our top tip? Campers should always be within eye's reach around water.
If your child will be riding anything with wheels or playing sports, ask camp staff about helmet use. Whether it be riding a bike, playing football or trying rock climbing, children should always wear a properly fitting helmet that is appropriate for each activity.
If your child will be outdoors most of the day, be sure to pack essential outdoor safety supplies, such as a water bottle, sunscreen and bug spray.
Additional summer camp safety tips:
Read and discuss camp rules and policies with your child before heading to camp. Ask them if there is anything they don't understand.
Talk to camp leadership about any special needs or specific accommodations your child will require while at camp.
Avoid making any significant changes in medication or routines before camp. And send all medications to camp with your child, ensuring they have enough to cover the time they'll be away.
Pack (and have a plan for) rescue medications. If your child has allergies or conditions that require rescue medication, such as asthma or seizures, be sure to pack their medication and talk with camp staff about an action plan. For example, make sure camp staff know where your child's EpiPen® or inhaler is and how to use it.
Teach your child about body safety and establishing safe boundaries. Assure them that it's OK to stick to boundaries and speak up if they are uncomfortable.
Have your child identify safe adults they would feel comfortable talking to if you cannot be reached.
Are camps safe during the COVID-19 pandemic?
It's OK if you feel a bit nervous about sending your child to camp right now. The good news? Because we are more than a year into the pandemic, experts know a lot more about how the virus is spread and how to prevent it from happening.
The most important measures many camps are taking regarding COVID-19 safety are masking, physical distancing, smaller group sizes, and cleaning and disinfecting.
If you're concerned about sending your child to camp during the pandemic, here are some questions you can ask camp leadership:
Will camp staff and volunteers be vaccinated?
What sort of screening and testing policies are in place for campers before we head to camp?
Is there a face mask policy for kids at camp?
How much contact will my child have with other campers and camp staff?
Will my child be screened for symptoms while at camp?
What kind of sanitation and disinfecting policies are in place?
Will my child have access to handwashing stations or hand sanitizer throughout the day?
If your child has an injury or is showing signs of illness, call your doctor or visit an urgent care center. If your child has a life-threatening injury or illness, is having trouble breathing or is unconscious, call 911 and/or visit an emergency department immediately.