How to Make Family Meals Baby-Friendly
By the time your little one is 1 year old, they should be eating the same foods as the rest of the family. While this is great news for the family chef (no more cooking multiple meals), there are some ingredients that still aren't the best choice for your baby. Find out which seasonings and condiments to leave out of your baby's meal, and get tips for making simple swaps for foods that are baby-friendly.
---
Making breakfast baby-friendly
Mom always said breakfast was the most important meal of the day, so why not start the day off right with a baby-friendly meal the whole family can enjoy? Here are some ideas to get everyone's day off to a good start:
Oatmeal. Serve it plain, add fruit (such as unsweetened applesauce or mashed banana) or throw in some cinnamon. Save brown sugar, or other sweeteners, for your serving.
Scrambled eggs. If you like to eat your eggs with ketchup or cover them in hot sauce, save those condiments for your plate only.
Toast. Use butter or thinly spread sun or nut butter instead of jelly for your baby.
Waffles/pancakes. Skip the syrup and consider adding a thin layer of sun or nut butter, or provide unsweetened applesauce or plain yogurt for dipping.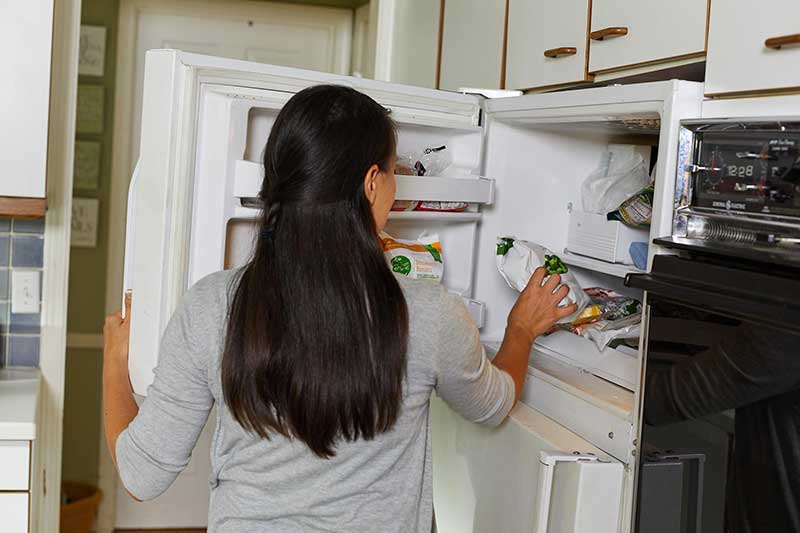 Making lunch and dinner baby-friendly
Since many lunch and dinner foods are interchangeable, these tips can be used whenever you're looking for baby-friendly meal ideas:
"Deconstruct" tacos and sandwiches. Serve all the little parts (meat, tortilla/bread, shredded cheese, diced veggies) separately. This will make it easier for your baby to eat. With the sandwiches, use a rolling pin to flatten the bread, making a little "mini sandwich."
Serve leftover dinner for tomorrow's lunch. This will save time and help avoid wasting food.
Make meals that freeze well. Having freezer-friendly meals prepared ahead of time can be a lifesaver in the middle of a hectic week. Some ideas include casseroles, lasagna, soups, stews or a meal with chicken, rice, broccoli and veggies.
Use a slow cooker. Chili, chicken noodle soup and lentil soup are all great options for a baby-friendly meal that can be made in the slow cooker. Use a slotted spoon for your baby's portion since it can be difficult for your baby to eat with their fingers when there is too much liquid.
Have baby-friendly sides on hand. If your side dish isn't baby-friendly, have sides on hand in the pantry and freezer for a simple swap. For example, you can give your baby unsweetened applesauce instead of apple slices or cooked frozen veggies instead of carrot sticks.
Serve steamed or canned fish, such as tuna or salmon. The good fats in these fish are great for your baby's brain development. When buying canned tuna, choose canned light tuna packed in water.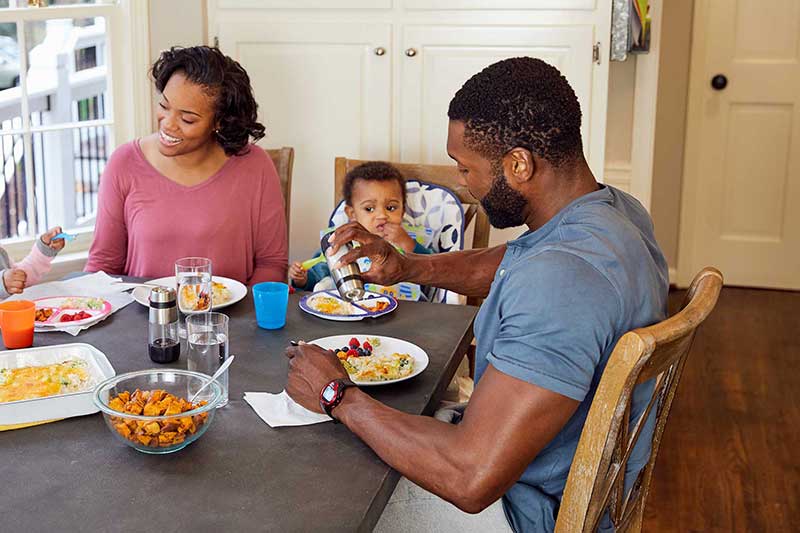 Limiting salt for your baby
Your home-cooked meals are bound to have some sodium in them, but taking a few steps to reduce the sodium content will go a long way for your little one, whose kidneys simply can't handle a lot of salt. And don't worry, your baby won't be deprived without the salt. Salt is a learned taste, so if they haven't had it yet, they won't know what they're missing.
Choose lower-sodium versions. This is a great option for canned foods, such as tomato sauce, broth, veggies and beans.
Season foods and meats with fresh or dried herbs. Skip the salt and choose baby-friendly seasoning, such as garlic powder (not garlic salt), oregano, basil, parsley and rosemary.
Avoid packaged seasoning mixes. Packaged mixes can be loaded with a lot of sodium/salt and other additives, and oftentimes it's less expensive to make your own.
Balance with salt-free snacks. Since it's nearly impossible to eliminate all of the sodium from home-cooked meals, you can balance your baby's intake by choosing snacks that are naturally low in salt (such as fruits, veggies, toasted oats cereal and plain yogurt).
Limit packaged foods. This is by far the easiest way to reduce the amount of salt your baby gets. Packaged foods are loaded with salt and added sugars.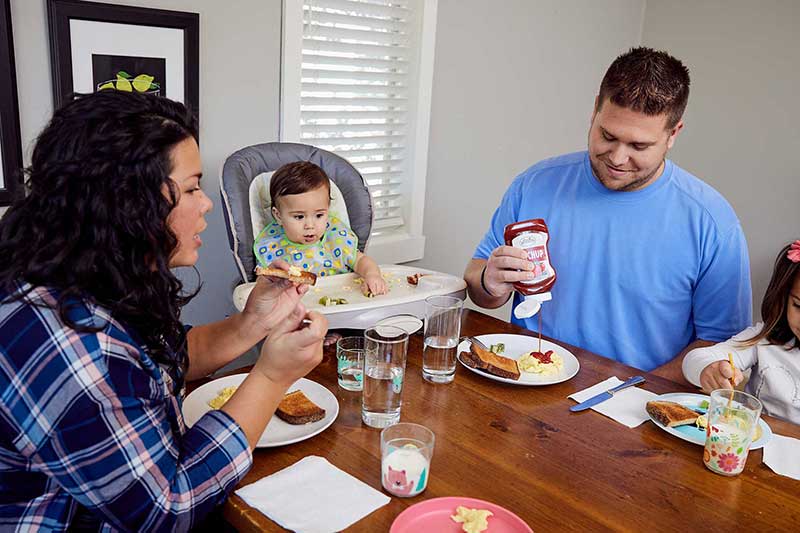 Limiting sugar for your baby
We're all born with a natural preference for sweet foods, but too much added sugar isn't necessary for your baby (or any of us, really). In fact, the American Heart Association recommends no added sugar before the age of 2. Introducing your baby to added sugars at a young age can affect their taste preferences and leave them wanting more of the sugary foods and less of the healthy stuff you want them to eat.
In addition to skipping packaged foods and sweetened drinks that are loaded with sugar, here are 2 more things to keep in mind:
Skip sugary condiments. Try not to give your baby condiments, such as syrup, jelly or even ketchup. Honey is another condiment to avoid. Honey can be dangerous to babies under 1 as it can cause infant botulism.
Beware of "low sugar" or "sugar free" labels. You may think these are good, but many times it means sugar has been replaced with an artificial sweetener or another not-so-healthy ingredient to maintain a good taste. There simply isn't enough evidence to know the long-term effects of artificial sweeteners on children, and these foods still leave your child wanting sweets.
Sitting together as a family
As you're trying to make baby-friendly meals the whole family can enjoy, remember, there are countless benefits of eating meals together as a family. It's best to start that routine as soon as your baby is eating table foods with you. This provides the best opportunity to model good eating habits and have a positive family experience.