FAQ: Choosing the Right Car Seat
There are a lot of options, opinions and information about car seat. But the most important thing to consider when choosing a car seat is your child's safety. That's why our team of certified Child Passenger Safety Technicians (CPSTs) are answering some of the questions they get asked most.
---
What are my choices when it comes to car seats?
There is some variety in choices, but all children begin in a rear-facing seat, then progress to a forward-facing seat before using a booster seat and, finally, a seat belt (all based on the child's height and weight, not age).
Are more expensive car seats safer?
Some seats offer more convenience features, making them more expensive but not necessarily any better or safer.
The best seat for you and your child is the one that:
Fits your child.
Fits in your car.
Is not expired.
Is not damaged.
Meets NHTSA standards.
You can properly install.
You will use correctly for every trip.
Are used car seats OK to use?
It's typically OK to use a used car seat if:
You know the manufacture date.
You know there were no recalls on the car seat.
You know the car seat was never involved in a crash that requires replacing the seat.
There is no physical damage to the car seat.
We recommend only using a used car seat if you personally know, and trust, the previous owner. Therefore, we do not recommend using third-party selling platforms, such as Facebook Marketplace or Craigslist.
Which type of car seat is safest for my child?
The safest seat is the one your child fits into based on their height and weight. Every car seat is different, so be sure to check both your car seat and vehicle manuals for height and weight maximums.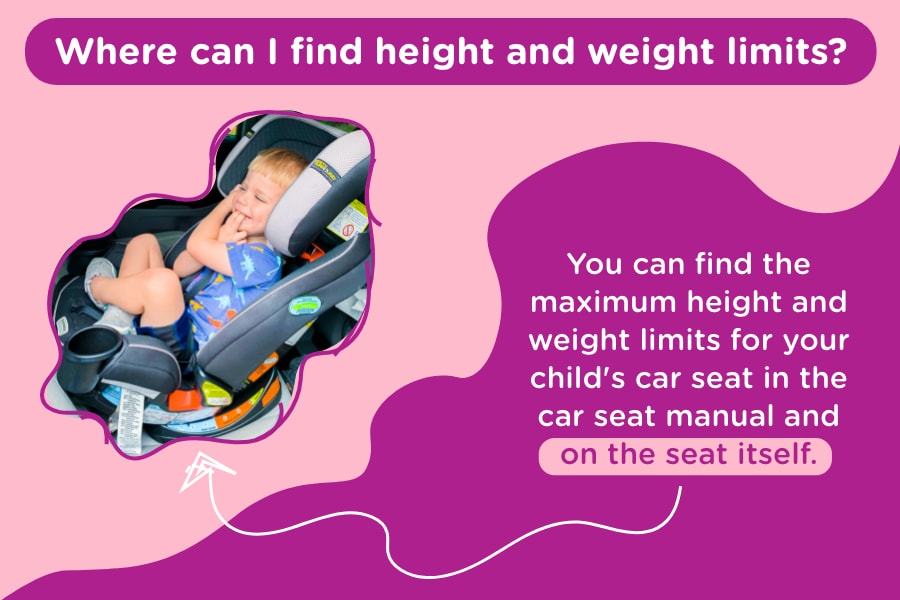 When is my child ready to switch car seats?
Although car seat transitions are commonly referred to as "graduating" to a more mature stage, transitioning up typically means less protection than the previous stage. Keep your child in their appropriate stage until they exceed the height or weight maximum.
For example:
If the maximum weight for your child's rear-facing convertible seat is 40 pounds, wait until your child weighs 40 pounds before turning your child's seat to face forward.
If the maximum height or weight for your child's forward-facing seat is 65 pounds or 49 inches, wait until they weigh 65 pounds or reach 49 inches tall to move them to a booster.
Does the car's age affect which car seat I should use and how to install it?
Your vehicle's age, size and headrest setup could affect which car seat you use and how you install it. Before you settle on a seat, look at your vehicle's user manual and the car seat's manual (many are available online) to ensure the seat you've chosen will work in your car. Test the seat out before taking your child for their first ride.
Where can I go to have my child's car seat checked for safety?
We highly recommend having your car seat inspected by a certified child passenger safety technician (CPST). According to the NHTSA, nearly half of car seats in the U.S. are not installed properly. Visit Safe Kids Georgia to find a CPST in Georgia. If you're located outside Georgia, check out the Safe Kids Worldwide national directory.
If your child has an injury or is showing signs of illness, call your doctor or visit an urgent care center. If your child has a life-threatening injury or illness, is having trouble breathing or is unconscious, call 911 and/or visit an emergency department immediately.