FAQ: Proper Car Seat Fit and Use
Did you know nearly 60% of car seats are not used properly? Help keep your little one safe in the car by following the advice of our certified Child Passenger Safety Technicians (CPSTs).
---
Which vehicle seat is my child's car seat safest in?
Anywhere in the back seat of your vehicle is safe if the car seat is installed correctly. Please note that vehicle seats should not touch the back of any rear-facing car seat.
Is it OK for my child to sleep in their car seat?
All children (of any age) are safe to sleep in their car seat in a running vehicle if the seat is properly installed. However, you never want to let an infant sleep in their car seat outside of the car or stroller as it increases the risk for SUID (sudden unexpected infant death).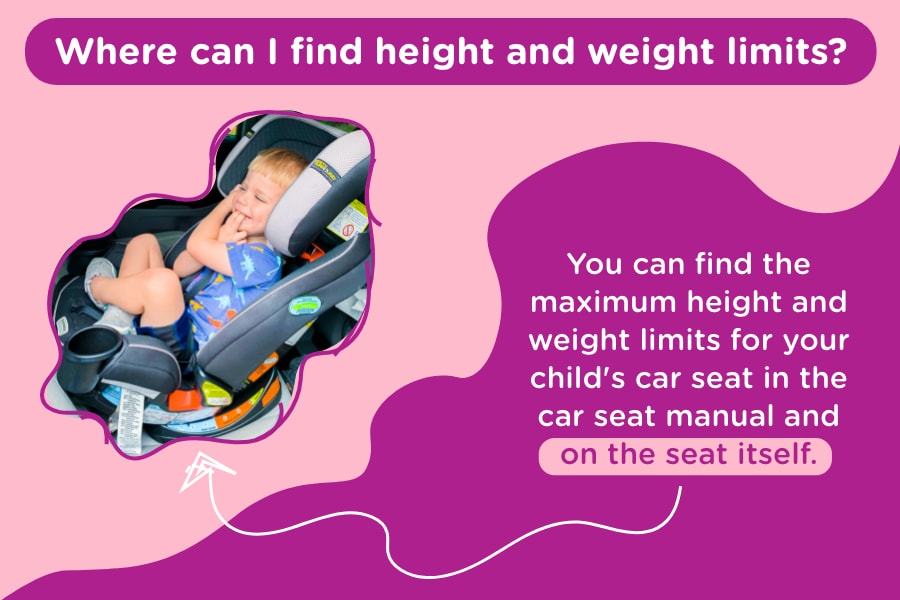 When is my child ready to switch car seats?
Although car seat transitions are commonly referred to as "graduating" to a more mature stage, transitioning up typically means less protection than the previous stage. Keep your child in their appropriate stage until they exceed the height or weight maximum.
For example:
If the maximum weight for your child's rear-facing convertible seat is 40 pounds, wait until your child weighs 40 pounds before turning your child's seat to face forward.
If the maximum height or weight for your child's forward-facing seat is 65 pounds or 49 inches, wait until they weigh 65 pounds or reach 49 inches tall to move them to a booster.
Is it OK if my child's head extends over the top of the seat?
Always consult your car seat's manual for specific information, but in general, it depends on the car seat your child is in.
In most rear-facing car seats, your child's head should be at least 1 inch below the top of the seat.
In most forward-facing car seats, your child's ears shouldn't be above the top of the seat.
Are car seat accessories—mirrors, seat protectors, head support straps, padded shoulder straps, etc.—safe?
No. Car seat accessories are not crash tested and therefore do not meet federal safety standards. Many car seat accessories (even ones that claim to be safe) can pose more risk for injury or death in the event of a crash. So, no matter how comfortable, convenient or cute they may seem, it's best to skip any accessories that were not included (or are not approved for use) with your seat by the original manufacturer.
Is it safe for babies and kids to wear a jacket in their car seat?
It is generally best for kids to wear a single, thin layer of clothing for them to be securely fastened in their car seat. Therefore, we do not recommend putting your child in their seat while wearing a coat or jacket, regardless of how thin it may be.
In cooler months, we recommend laying their jacket (or a blanket) over them after they're securely buckled in their seat. During warmer seasons, try covering your child's seat with a blanket (or even a soft cooler with ice packs) to keep it from getting too hot.
Where can I go to have my child's car seat checked for safety?
We highly recommend having your car seat inspected by a certified child passenger safety technician (CPST). According to the NHTSA, nearly half of car seats in the U.S. are not installed properly. Visit Safe Kids Georgia to find a CPST in Georgia. If you're located outside Georgia, check out the Safe Kids Worldwide national directory.
If your child has an injury or is showing signs of illness, call your doctor or visit an urgent care center. If your child has a life-threatening injury or illness, is having trouble breathing or is unconscious, call 911 and/or visit an emergency department immediately.