Honoring Khyree: Dad Shares Story to Prevent SIDS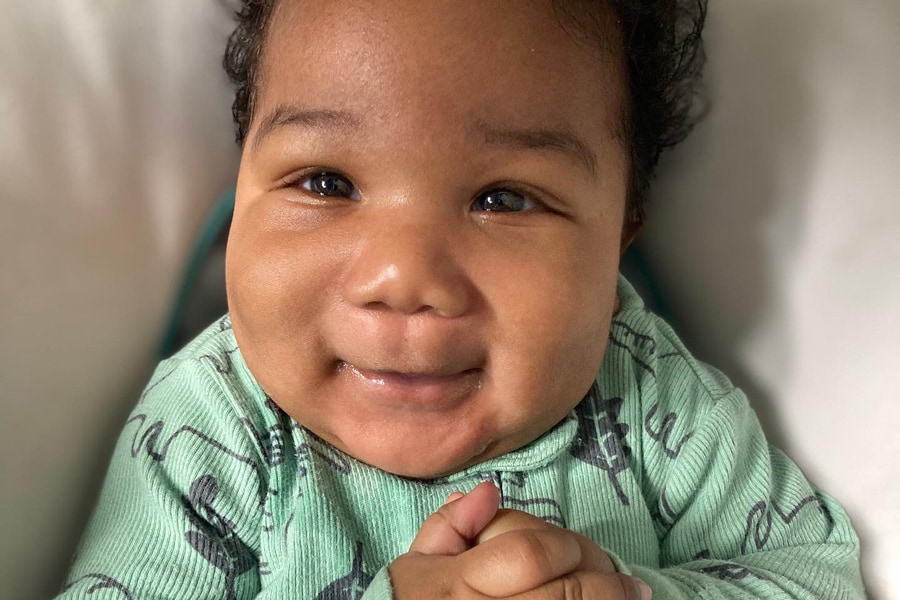 In February 2021, Marcellus Long tragically lost his 4-month-old son, Khyree Kruz Long, to sudden infant death syndrome (SIDS). He's sharing his family's story to honor Khyree and raise awareness about safe sleep for babies. His hope is that no more families have to endure this kind of loss.
Research shows rates of sleep-related death are much higher in Black infants than in their White, Hispanic and Asian counterparts. That's why Marcellus feels it is especially important to share Khyree's story within his community.
---
Khyree's story
By: Marcellus Long, Distribution Supervisor, Children's Healthcare of Atlanta
My name is Marcellus Long. On February 15, 2021, my wife, Zanaviea, and I lost our 4-month-old son, Khyree Kruz Long, to SIDS.
Khyree was a funny, silly baby. He was always smiling—even in his sleep—and giggling and making our family laugh. He loved to eat and he'd let you know if he was hungry. He made the funniest noise, almost like a piglet squeal, when he was hungry.
He was also tracking ahead with movement milestones for his age. He sat up at 2 months old and at 3 months he was holding his own bottle. And he loved his older brother. They were inseparable.
He was so special to our family, and we still feel the pain of his loss every day. The day we lost him is a day I'll never forget.
My wife woke me up early in the morning, around 6 a.m., frantic. She was screaming, "The baby isn't breathing!" At first, I was in shock. I thought this had to be a dream. I couldn't believe it.
After a moment, I started CPR while my wife called 9-1-1. Our 2 older children were awake, standing in the doorway. I could feel my son, lying still and cold, while my wife begged the operator to just send someone out. I was able to get some air bubbles while doing CPR, so I thought to myself, "This isn't going to be easy, but there's hope. This is going to be a miracle."
The ambulance arrived and quickly took Zanaviea and Khyree to the hospital. I stayed at home with our 2 young children until my mother-in-law was able to come and help.
After that, it was chaos. A whirlwind of working with the police, child protective services and others. Walking through the previous night and that morning in excruciating detail. Frankly, doing everything that a worried, grieving father doesn't want to do. Because all you want to do is be by your wife's side, waiting to hear that everything is going to be OK.
In the end, it wasn't all OK. We lost our son, and the coroner ruled his cause of death as SIDS.
In the wake of losing Khyree, my family has gone through all the different stages of grief. My wife and I desperately miss our son. Our children miss their brother. We mourn for the memories we never got to make, but we find peace in the memories we do have.
And more than his memory, we find hope in his legacy. Before losing my son, I had heard about SIDS in passing. But I had never gotten any information on preventing it. We were never given any education on safe sleep for babies.
To honor my son, I am begging expecting and new parents to learn the ABCs of safe sleep. To put their babies to sleep alone, on their back, in a clear sleep space.
Part of parenthood is not just being there for the great things, but also preparing for the worst. Before this, I didn't want to think about the "what ifs." I didn't want to prepare for bad outcomes because it almost felt like a jinx. But being educated on tragedies like this doesn't mean it's going to happen to you. It's your best protection against it.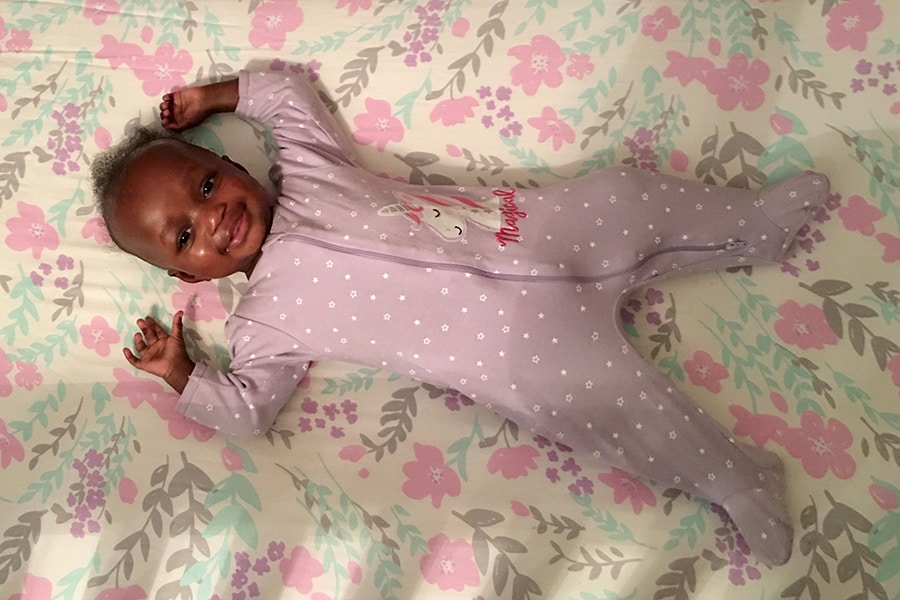 The ABCs of Safe Sleep
To keep babies under 1 year of age safe, practice the ABCs of safe sleep.
A is for ALONE. Put your baby to sleep in their own sleep space. Share a room, but not a bed, with your baby. That means:
Your baby is not sharing a bed with you (or anyone else)
Your baby is not sleeping with you (or anyone else) on a couch or chair
Your baby is not sleeping with a sibling—even twins, triplets or other multiples
B is for BACK. Place your baby to sleep on their back until they are 1 year old. If your baby is able to roll over on their own, and is no longer swaddled, it's OK to leave them on their tummy. But lay them down on their back to start.
C is for CLEAR. Put your baby down in a clear sleep space. That means a space clear of:
Blankets
Pillows
Non-fitted sheets
Crib bumpers
Stuffed animals
Toys
Mattress toppers
Any other loose, soft objects
All your baby needs for safe, comfortable sleep is a flat, firm surface and a fitted sheet. If you're worried your baby will get cold, use a wearable blanket or sleep sack. Just be sure to avoid hats or head coverings, which can lead to overheating.
Babies can also have a loose pacifier in their crib—meaning it isn't clipped to their clothing or hanging from their neck. Using a pacifier has been shown to reduce the risk of SIDS, so the AAP recommends offering one at night and during naps.