Guide to Swim Lessons for Babies, Kids and Teens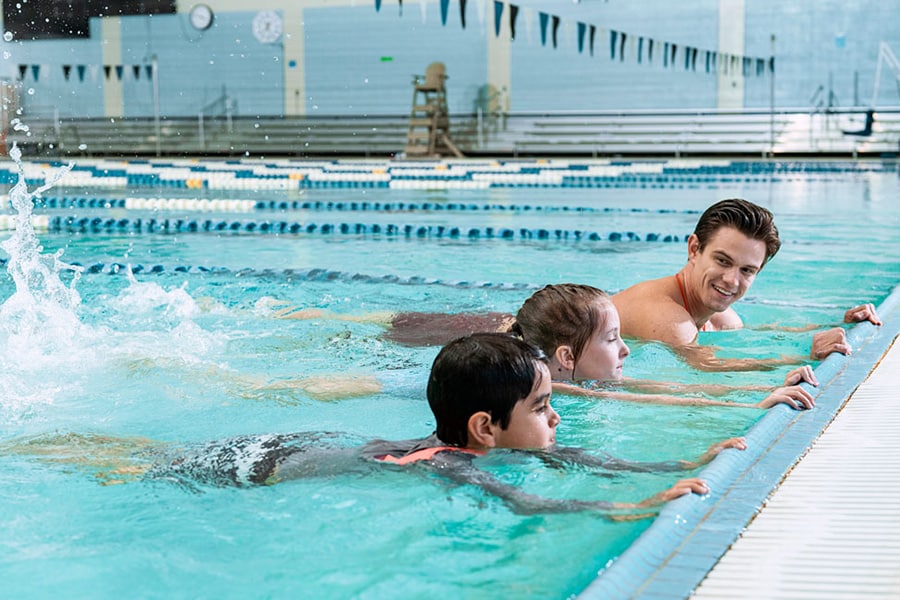 Swim lessons are a great way to add to your family's water safety and drowning prevention plans. While lessons are never a replacement for proper supervision, they're a great way for kids to get comfortable—and gain confidence—in and around water.
If you're wondering when to start swim lessons, or how to choose lessons for your family, our Children's Healthcare of Atlanta water safety experts can help.
---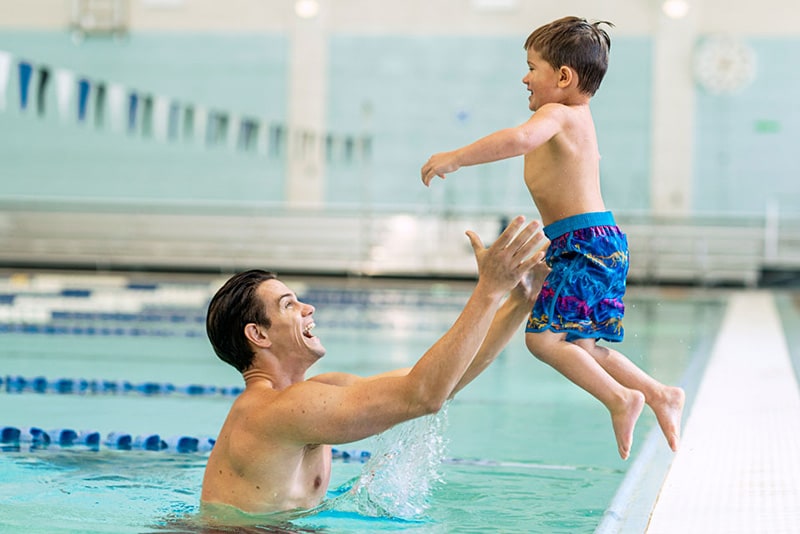 When to start swim lessons
Because children learn and grow at different rates, there's no single answer for the best time to start swim lessons. But we do recommend that all kids learn to swim by the time they are going to school.
Remember swim lessons are an added water safety measure for your family. Nothing replaces the safety that you provide by supervising your child in and around water. Always be your child's lifeguard.
Here are our experts' tips for deciding when to start swim lessons for your child:
Use your best judgment about when your child is ready. You know your child best. Think about their physical development, their emotional maturity, and their comfort level in and around water. If you think your child is ready, the American Academy of Pediatrics (AAP) suggests babies can start swim lessons at 1 year old.
Think about when they'll be around water. If your child is ready to learn, and you think they'll be at a pool, lake, beach, etc. soon, we highly recommend they learn to swim as early as possible. Quality swim lesson providers will not only teach swimming skills, but also teach kids important water safety information.
Consider your comfort level with water. Do you know how to swim? If not, consider taking classes with your child. You can model good safety habits while spending quality time together.
A note for children with developmental disabilities: There's no reason why any child should not learn how to swim. Kids with underlying medical disorders, such as autism or epilepsy, are at a higher risk for drowning, so it's even more important for them to take swim lessons. Contact swim schools and swim lesson providers near you to ensure they can offer lessons appropriate for your child.
What about ISR swim lessons?
The AAP does not recommend infant swim lessons as drowning prevention. That's because, currently, no evidence shows that infant self-rescue (ISR) or other swim lessons before the age of 1 lower an infant's drowning risk.
Babies younger than 1 year don't have the head and neck control it takes to raise their head out of the water and breathe normally. So these lessons don't necessarily prevent drowning in infants.
Water play classes for infants and toddlers are a great way to bond with your baby and get them used to being in the water. But when it comes to water safety, always use touch supervision with little ones. Keep your baby within arm's reach.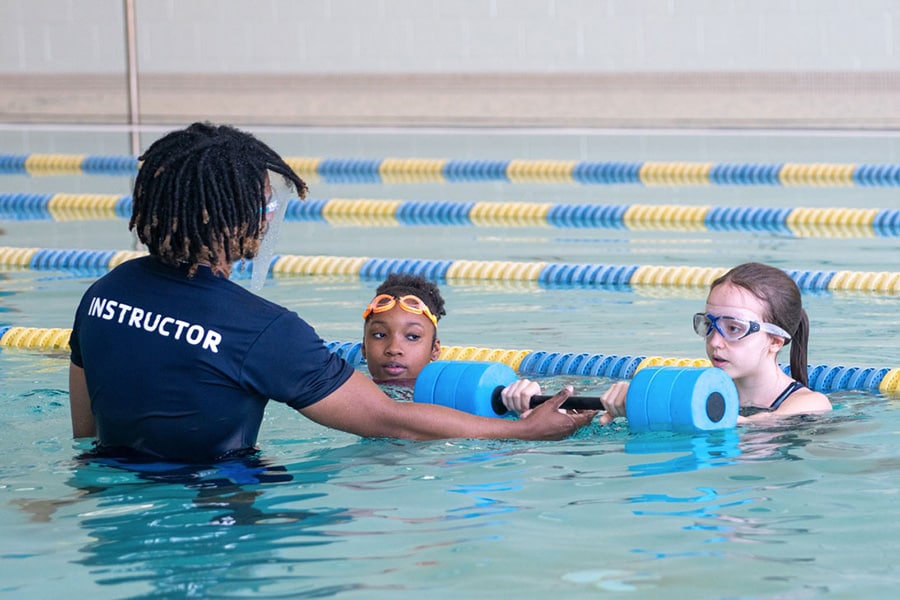 How to choose swim lessons for babies, kids and teens
When you're looking for kids or teen swim lessons near you, our experts suggest evaluating programs based on the following criteria:
Is the program designed for your child's swim skills and developmental stage? More important than your child's age is their comfort level and confidence in and around water. Make sure your child will feel safe and secure in the water. And that lessons will support their physical, emotional and social development.
Are swim instructors certified in CPR and First Aid? Anyone responsible for teaching kids to swim, and monitor their safety, should be certified in both.
Do the lessons focus on swim skills and safety measures? Your child should not only learn how to swim, but also how to be safe in and around water. Lessons should teach them to avoid dangerous situations and to respect that water poses certain risks.
Do lessons teach children what to do if they fall into water? While learning to swim should be fun, it's also serious business. Lessons should teach children how to respond in case of an emergency. For example, children may learn to float on their back if they fall into water or find themselves in a dangerous situation.
Is the instructor in the water with your child? Swim instructors should be in the water with your child, so they not only offer hands-on instruction, but are also within arm's reach if your child needs support.
Does the program require multiple lessons? No one learns how to swim properly and safely in a single session. You should see gradual, but consistent, improvement in your child's swimming skills over time. And, ideally, their confidence should show.
How much do swim lessons cost?
Swim lessons will always be a good investment. Not only in your child's safety, but also in their social and physical development. Being able to swim confidently will allow them to take part in a variety of activities, from birthday parties to joining a competitive swim team.
But we know this investment in your child is a financial one as well. Swim lessons range in cost, depending on the type of lessons, the provider, how many lessons your child will take and what they'll learn during lessons.
Here are our tips for keeping swim lessons cost effective:
Enroll your child in group swim lessons. While private lessons offer one-on-one instruction and support, your child will benefit from being in a group of their peers. They can watch other kids learn while building social skills. Choose lessons with a class size of no more than 6 children for proper instruction and supervision.
Look for local organizations that offer discounted rates for members. Organizations like the YMCA offer cost-effective swim lessons for members. They also offer financial assistance for families with lower household incomes.
If you're in Atlanta, contact parks and rec. The YMCA and the American Red Cross have partnered with Atlanta's Department of Parks and Recreation to offer swim lessons for kids, and CPR and water safety training for caregivers, through their Camp Best Friends Summer Program.
If your child has an injury or is showing signs of illness, call your doctor or visit an urgent care center. If your child has a life-threatening injury or illness, is having trouble breathing or is unconscious, call 911 and/or visit an emergency department immediately.