FAQ: Booster Seats
Get answers to the most commonly asked questions our certified Child Passenger Safety Technicians (CPSTs) hear about backless and high-back booster seats.
---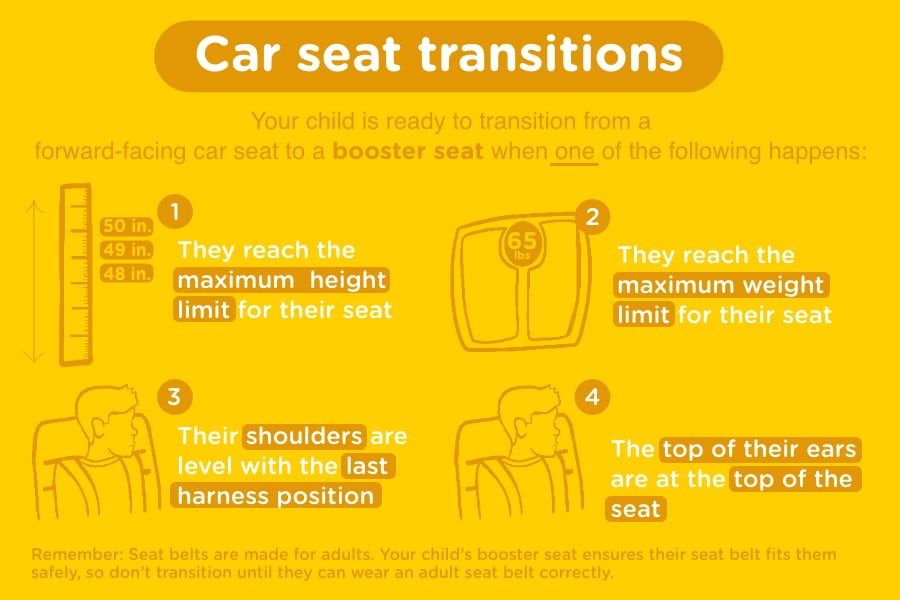 When should my child switch to a booster seat?
Always check the height and weight restrictions in the car seat manual, and try to maximize the seat they're in for as long as you can based on your child's measurements. Each time you switch to a new car seat stage for your "bigger, older" child, the new car seat generally offers less than the car seat before.
Once your child reaches the height or weight limit in their forward-facing seat, you'll have two types of booster seats to choose from: high-back and backless (also known as no-back).
What's the difference between high-back and backless booster seats?
Children should start with a high-back booster seat. They can move to a backless (also known as no-back) booster seat if they are no longer sleeping in the vehicle (i.e., they are sitting upright for the entire ride, every ride), the vehicle seat has a headrest behind the child's head and the seat belt fits correctly. However, please note that high-back booster seats are generally safer because they offer side impact protection.
Backless booster seats should only be used in vehicle seats with headrests. If your vehicle's back seat does not have headrests, you will need to use a high-back booster seat.
What if my child's head extends above the top of the seat?
Always check your car seat's manual for specific information, but in general, your child's head should be at least 1 inch below the top of a rear-facing seat to be a proper fit.
How do I install my child's booster seat?
Always refer to your booster's manual for installation instructions. Some booster seats use your vehicle's LATCH system to keep it secured while others only rely on your child's weight and the vehicle's lap and shoulder belt.
If your booster doesn't use the LATCH system, we recommend securing the booster seat even while your child is not sitting in it to prevent it from shifting during a sudden stop, swerve or crash.
For in-depth installation tips, watch the general car seat safety and booster seats videos below. And always remember to consult both your vehicle's owner manual and booster seat's user manual.
Car Safety Basics for Kids

As a certified Child Passenger Safety Technician, Ava will walk you through every stage of car safety for kids.

Booster Seats: How to Avoid Common Mistakes

High Back vs. Backless (No-Back) Booster Seats
How do I know if my child is safely buckled in?
Check to make sure the lap belt sits low and snug across your child's hip bones. The shoulder belt should always be positioned away from your child's neck and crossing the middle of their chest and shoulder.
Do we need to buckle in an empty booster seat?
Yes. In the event of a sudden stop, swerve or crash, an unbuckled booster seat can quickly turn into an additional safety hazard, posing a greater risk of injury.
Is it OK if my child sleeps in their booster seat?
If your child meets the height and weight requirements for a booster seat, then they are safe to sleep in a high-back booster seat. Backless boosters do not offer enough side support to protect your child's head and neck in the event of a crash if they are sleeping.
If your child has an injury or is showing signs of illness, call your doctor or visit an urgent care center. If your child has a life-threatening injury or illness, is having trouble breathing or is unconscious, call 911 and/or visit an emergency department immediately.