How to Keep Kids Safe in the Car
Whether you're planning the perfect family getaway, traveling to grandma's house or just going to the grocery store, the car can be a dangerous place for children. Did you know a child younger than 13 is involved in a car crash every 33 seconds? And car crashes are a leading cause of death in children from birth through adolescence?
The stats are frightening, but car travel doesn't have to be. Read on for tips to keep kids safe while you're on the go.
---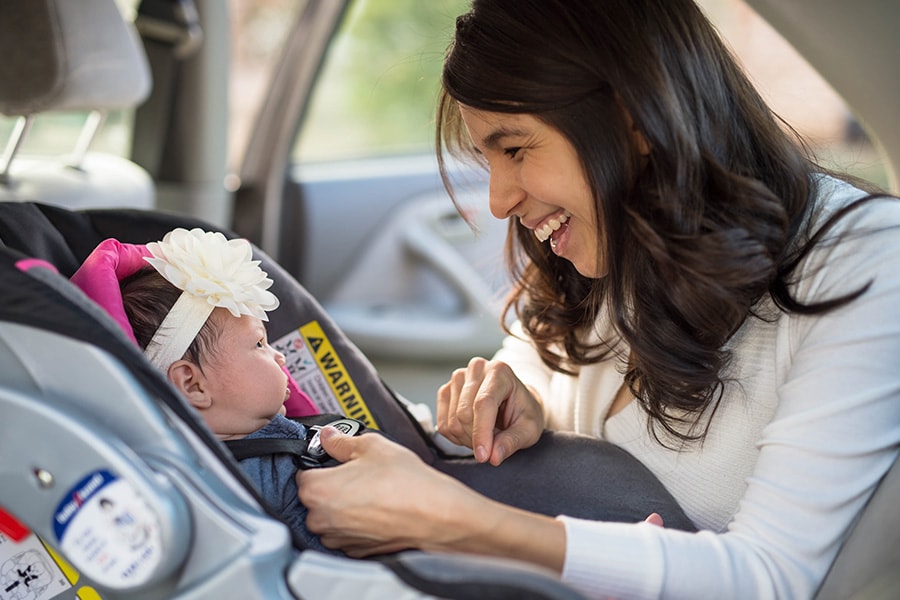 Car seat guidelines for infants
While car crashes are a leading cause of injury and death in children, many of these cases are preventable. The key to preventing the unthinkable in a car crash? A properly installed car seat.
The type of car seat you'll need largely depends on your child's age, height and weight. The American Academy of Pediatrics (AAP) recommends that all infants and toddlers ride in rear-facing car seats in the back seat until they reach the highest weight or height indicated by their car seat manufacturer. (Refer to your car seat's manual or manufacturer website for height and weight limits.) When choosing a seat, always make sure you select one that meets or exceeds Federal Motor Vehicle Safety Standard 213.
Here are some other rules to keep in mind when it comes to rear-facing car seats:
Secure the harness in the slots, which should be at or below your child's shoulders.
Make sure the harness is snug. A good rule of thumb? You shouldn't be able to pinch any slack between your fingers when checking the harness straps over your child's shoulders.
Place the retainer clip right at the center of your child's chest, even with their armpits.
Ensure your car seat is installed tightly in the vehicle, using the lower anchors and tethers. (You may also see this referred to as LATCH: lower anchors and tethers for children.) You should not be able to move the car seat more than an inch side to side or front to back. If you can, it's not tight enough.
If you're using a convertible car seat in the rear-facing position, double-check that the seat belt or lower anchors are inserted in the correct belt location. The instruction manual should offer specifics for your model.
If your car seat is in the rear-facing position, make sure the car seat is at a 45-degree angle using the angle indicator located on the side of the car seat.
If your car seat comes into contact with the back of the front seat, refer to your instruction manual to ensure this is OK.
Reach out to a certified Child Passenger Safety Technician in your area. They can help you install your car seat and answer any questions about proper installation or safety.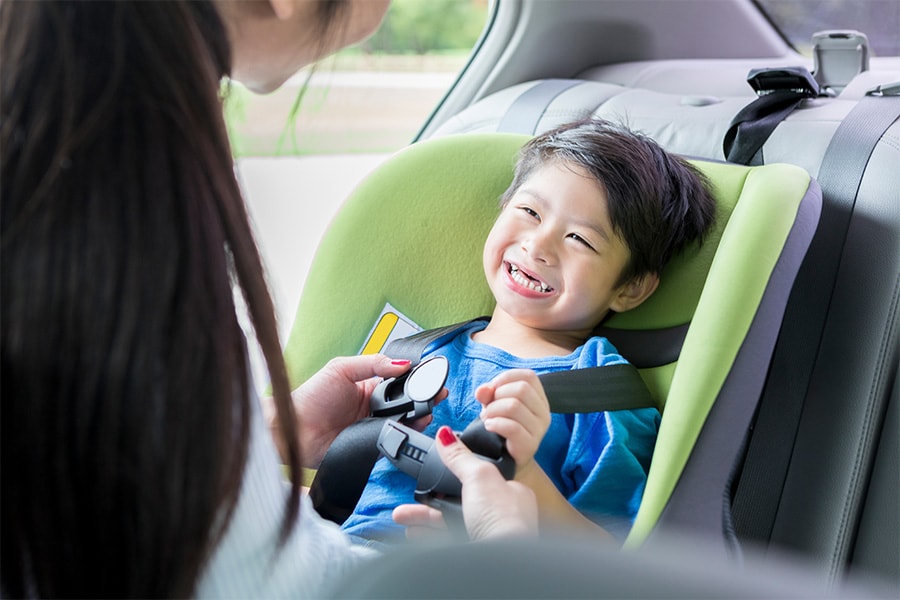 Car seat guidelines for toddlers and older children
As your child gets older, they will eventually "graduate" to forward-facing seats and booster seats. You should always check your car seat manufacturer's weight and height restrictions before putting your child in a new car seat.
Forward-facing seats
Your child should remain rear facing for as long as possible, but when your child has outgrown the rear-facing position based on their height and weight, they will need a forward-facing car seat with a harness. You should use the forward-facing seat with a harness as long as possible—until your child has outgrown the height and weight requirements indicated by the seat manufacturer.
Here are some important safety precautions to keep in mind when setting up your child's forward-facing seat:
Check to make sure the harness straps are positioned just at or above the shoulders.
Always make sure your child's seat is reclined appropriately. It should be sitting upright, but check the seat's setup instructions to be sure.
Check the weight requirements for your seat if you're using the lower anchors. You can usually find this information on the stickers on the side of the car seat.
Unless your child is over the weight limit for the seat's tethers, always use them.
Booster seats
The AAP recommends transitioning to a booster seat only once your child reaches the weight and height requirements of their forward-facing seat, their shoulders are higher than the top harness slots, or their ears are in line with the top of the seat. But just like car seats, there are some very important things to remember when setting up a booster seat:
Always use a lap and shoulder belt to properly secure the booster seat to your vehicle.
Check to make sure the lap belt sits low and snug across the top of your child's thighs.
Ensure the shoulder belt is always positioned away from your child's neck and crosses the middle of their chest and shoulder.
Lastly, all children younger than 12 should ride in the back seat of the car.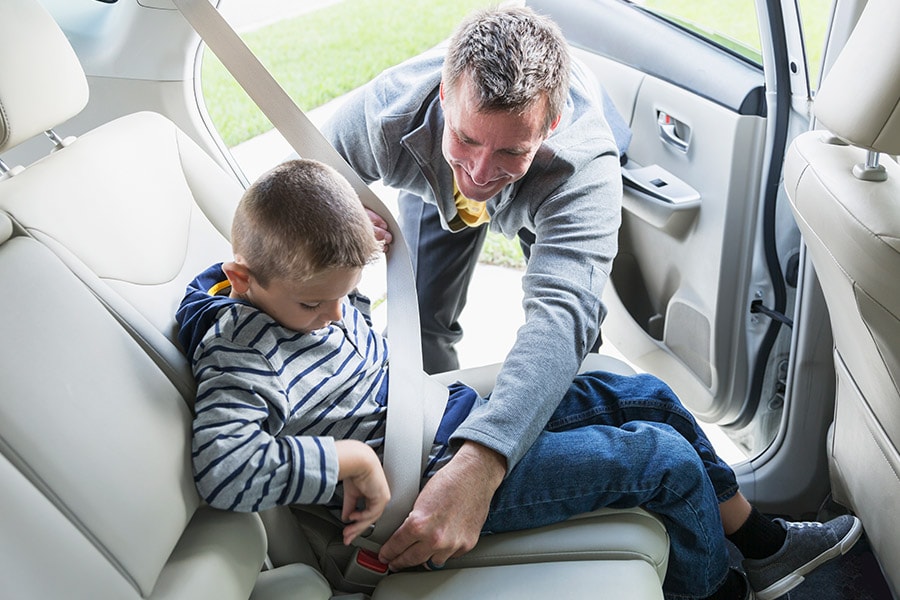 Ensuring kids' seat belts are secure
"Your child should stay in a booster seat for as long as possible," says Maneesha Agarwal, MD, a pediatric emergency department physician at Children's Healthcare of Atlanta. "Most children shouldn't use a regular seat belt until they are 10 to 12 years old."
When your child is ready to move to a regular seat belt, ensure they are tall enough to easily sit up straight against the back of your car's seat, with their knees bent over the edge of the seat. They should be able to stay comfortably situated this way for the duration of your trip.
Once your child starts wearing just a seat belt, you'll want to keep these safety measures in mind:
Always check to ensure your child's seat belt lies across the center of the chest and shoulder. Fit the lap belt across the upper thighs.
Make sure your child is always using the lap and shoulder belts. Kids like to pull down the shoulder belt or tuck it behind their back for comfort, but this is not safe.
Avoid products that claim to help seat belts fit more securely. These products are not made in accordance with, or regulated by, federal safety standards. If your child is tall enough and old enough to sit properly in a seat belt, they should not need anything additional to help.
Make sure each child in the car has their own seat belt—kids should never share a belt with another child.
"And remember—children under age 12 should always ride in the back seat," says Agarwal. "Vehicle airbags are designed with adults in mind, so the front seat is not a safe place for children."