FAQ: Rear-Facing Car Seats
Wondering how to install your child's rear-facing car seat? Or when your child is ready to face forward? Our certified Child Passenger Safety Technicians (CPSTs) are answering the questions they get asked the most when they're working with families in the hospitals or doing car seat checks within the community.
---
How do I install my child's rear-facing car seat?
Check out our tips for installing rear-facing car seats. For in-depth installation and fit information, watch the videos below for general car seat safety and tips for rear-facing seats. And always remember to consult both your vehicle's owner manual and car seat's user manual while installing your child's seat.
Check your installation by making sure it's level and by performing the "inch" test:
Grab your child's seat at the belt path, where it buckled up and tug it from side to side then front to back.
If the car seat moves more than 1 inch in any direction, it is not tight enough.
Car Safety Basics for Kids

As a certified Child Passenger Safety Technician, Ava will walk you through every stage of car safety for kids.

How to Install Rear-Facing Seats With a Seat Belt

Rear Facing Car-Seat Safety Tips

How to Install Rear-Facing Seats With Lower Anchors
Can my child sleep in a rear-facing car seat?
All children (of any age) are safe to sleep in their car seat in a running vehicle if the seat is properly installed. A sleeping infant should never be left to sleep in their car seat outside of the car or stroller. The carrier is designed to lock into the base at a specific angle, and sleeping outside of the base means their head could slump over and block their airway (inceasing the risk of sudden unexpcted infant death).
Should I install the car seat before my baby is born?
Yes, we recommend installing your car seat before your baby's arrival so you are ready to travel safely. It's also one less thing to worry about during what is a busy and exciting time. And don't forget to research how to safely buckle your infant in their car seat ahead of time. We highly recommend installing your car seat before your baby is due and having a certified child passenger safety technician inspect it. At the inspection, you can also ask questions about how to safely buckle up.
If you get into a crash of any kind before your baby arrives (with your new car seat installed), you may need to replace the seat.
How do I know if my child is buckled in correctly?
When you are finished buckling in your child, make sure:
The chest clip is at armpit level.
No straps are twisted.
The harness straps are at or slightly below your child's shoulders.
The harness is tight enough by performing the "pinch" test.

Try to pinch the harness at your child's shoulder and hips.
If there is any slack between your fingers (i.e., you were able to pinch the material), the straps are not tight enough.
What if my child's head extends above the top of the seat?
Always check your car seat's manual for specific information, but in general, your child's head should be at least 1 inch below the top of a rear-facing seat to be a proper fit.
Should I turn my child's rear-facing seat around to forward-facing because they get car sick?
No. While we know it's not fun or comfortable to ride with a child who cries or gets sick in the car, their safety is the top priority. There are a few things you can try to minimize motion sickness, including:
Planning car trips around your child's sleep schedule.
Avoiding big meals right before a car ride.
Increasing air flow in the car, reducing the temperature inside the car and removing any warm clothing.
Encouraging your child to look straight ahead or out the back window.
Discouraging them from looking down at a book, tablet or toy.
Driving safely and cautiously for fewer stops or swerves.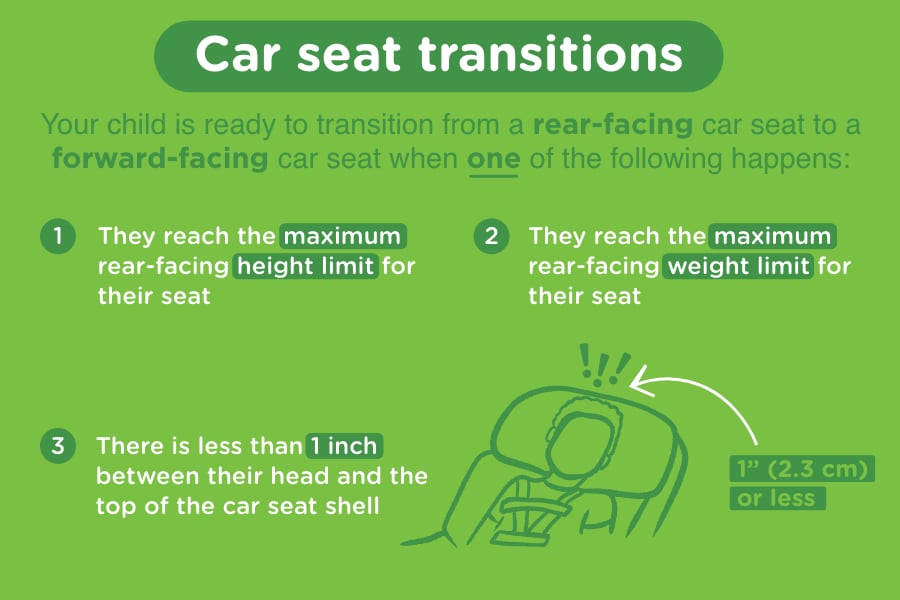 When should my child switch to a forward-facing car seat?
It depends. The American Academy of Pediatrics (AAP) suggests you keep your child rear-facing as long as possible because it's the safest way for them to ride. Unless your child is taller than the maximum rear-facing height limit, you should not transition them to a forward-facing seat or turn your convertible seat to face forward. It is normal and OK for children to sit "crisscross applesauce" or with their knees bent and feet up against the back of the vehicle seat.
Which car seat accessories are safe to use?
We do not recommend using any accessories that were not sold with the car seat (or are approved by the manufacturer to be used with your seat) as they are not crash tested and can lead to injury or death in an accident. This includes mirrors, seat protectors, head support straps, padded shoulder straps and many more seemingly convenient items.
If your child has an injury or is showing signs of illness, call your doctor or visit an urgent care center. If your child has a life-threatening injury or illness, is having trouble breathing or is unconscious, call 911 and/or visit an emergency department immediately.