Swimming Safety for Kids and Teens
Practicing water safety for kids of all ages is crucial because drowning is a leading cause of death in children from birth through the teen years. And drowning is often quick and silent.
But the good news is drowning is preventable. Whether kids and teens are swimming at the pool, beach, river or lake, our Children's Healthcare of Atlanta experts have plenty of water safety tips for kids and families.
---
Our top kids' and teens' swimming safety tips
Drowning is quick and silent—it can happen in just 30 seconds, without a single splash. That's why practicing water safety when kids and teens are swimming is so important.
Here are our top water safety tips for kids and teens, straight from Children's Healthcare of Atlanta Emergency Department physicians:
Practice proper supervision. Keep beginner swimmers within arm's reach to practice touch supervision. Be a water watcher for strong swimmers by keeping them within eye's reach.
Be honest about swim skills. There's no shame in not knowing how to swim. But the good news is it's never too late to learn. (Take it from NFL running back, Ito Smith!) If your child isn't a strong swimmer, give them the courage and confidence to be open about their skills with their peers and other adults so they can be properly monitored.
Sign up for swim lessons. Our experts recommend that children be able to swim confidently by the time they are in school. Check out our tips for finding swim lessons for kids.
Don't make older kids responsible for younger kids around water. Even if they're a strong swimmer, little ones should be supervised by an adult.
Teach kids to swim in groups. Especially if you or another adult won't be supervising, talk about a buddy system. No one should ever swim alone.
Talk about risk-taking behavior. Older kids and teens are more likely to drown because they're taking risks in or around water. Risky behaviors include jumping and diving, swimming or boating at night, and swimming while under the influence of alcohol or drugs. Peer pressure plays a part. Talk to your child about how certain behaviors can be life threatening. And empower them to make the right decisions under pressure.
Get your teen trained in CPR—they could save a life.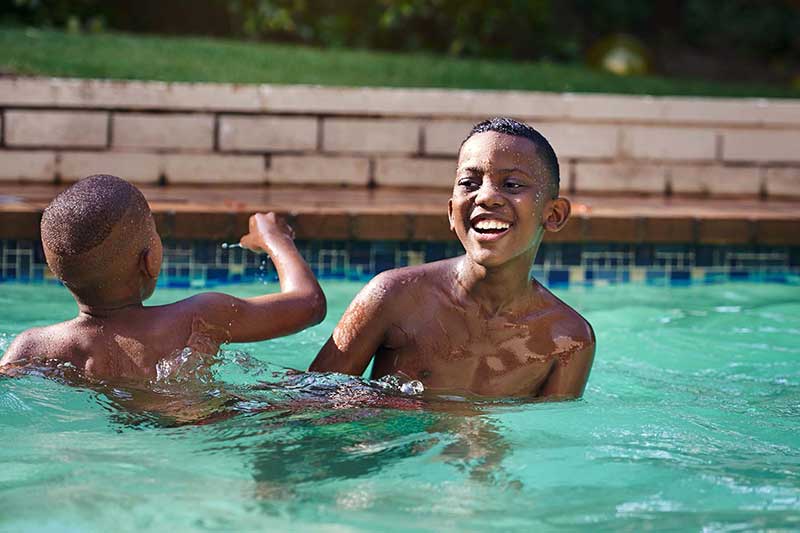 Pool safety tips for kids and teens
If your child or teen is swimming in a pool, or even around the water, you're always their best protection against drowning. Always keep an eye on your child while they're swimming, even if they're a strong swimmer.
Here are our experts' other pool safety tips for kids and teens:
Limit distractions while you're supervising. If your child is a strong swimmer and doesn't need touch supervision, you should still keep a constant eye on them while they're in or around the water. Phones, books, conversations and other distractions all keep you from keeping a close eye on the water. Remember, drowning can happen in as little as 30 seconds.
If you're away from home, choose a pool with a lifeguard present. Lifeguards aren't a replacement for close supervision, but they offer an extra set of eyes for safety.
Make sure your child checks the water's depth. Especially before jumping into a pool, talk to them about ensuring the water is deep enough to prevent injury.
Teach kids and teens to always enter water feet first. It's important that they practice diving safety. Diving head first can cause severe injury or death.
Warn kids and teens not to play rough. It only takes a second for a child to be injured or hit their head, and it could be dangerous if no one notices.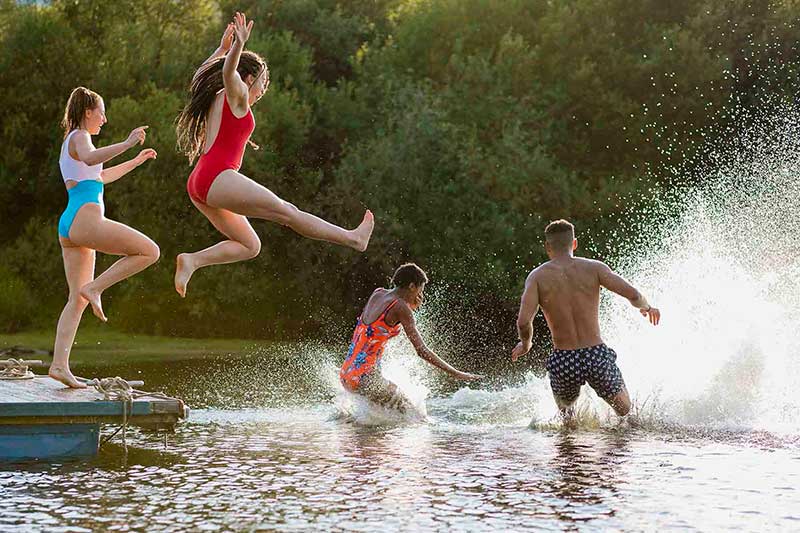 Beach, lake and river safety for kids and teens
At the beach, lake or river, the same water safety rule applies. Keep beginner swimmers within arm's reach and stronger swimmers within arm's reach.
According to the American Academy of Pediatrics, teens are especially at risk for drowning in open water. Teens may feel invincible, leading them to take more risks around water. Talk with your teen about why water safety is important, especially at the lake or river.
Here are some additional safety tips for kids and teens swimming at the beach, lake and river:
Avoid open water areas with large waves or dangerous currents. Teach kids and teens how to read posted signage and flags for warnings.
Teach kids to enter the water feet first. Diving head first can lead to spinal injury or death.
Make sure kids check the swimming area for hazards. In addition to looking for posted warnings, they should check for dangerous items, like tree stumps and debris.
Set a "checkpoint" and check-in times. Pick a spot to meet up if you get separated, or a time for your child to call you and check-in if you're not with them.
Boating safety for kids and teens
As your child gets older, you may not always be with them. So it's important to encourage them to follow water safety rules, especially when out on a boat or other watercraft.
Here are some boating safety tips for teens:
Don't let teens boat alone. Even if your teen has taken boater education (required by Georgia law), an adult should always be present while boating.
Wear a life jacket. Every boat passenger should always wear a U.S. Coast Guard–approved life jacket. In fact, it's the U.S. Coast Guard's guideline that children under age 13 always have a life jacket on when in a moving boat. The life jacket should not ride up above their ears. If it does, it's too big. When they're on the boat, fasten all straps and zippers.
Wear helmets during motorized water sports like wakeboarding, water skiing or tubing. And designate a spotter (not the driver) to keep an eye on the person in the water.
Do not participate in water sports at night. Make sure visibility is good before wakeboarding or participating in other water sports.
Refrain from using alcohol or other substances. Nearly one-third of all recreational boating fatalities involve alcohol, according to the U.S. Coast Guard. Using alcohol or drugs affects your judgment, vision, balance and coordination. Make sure you have a conversation with your child about these risks.
If your child has an injury or is showing signs of illness, call your doctor or visit an urgent care center. If your child has a life-threatening injury or illness, is having trouble breathing or is unconscious, call 911 and/or visit an emergency department immediately.
How to Keep Your Kids Safe Around Water

Learn more about our top water safety tip: arm's reach, eye's reach. Always keep children younger than 6 within arm's reach around water. And keep older, more confident swimmers within eye's reach.

NFL Player Takes Swim Lessons With Kids

NFL running back, Ito Smith, learned how to swim at 25 years old with kids ages 7 to 12 at a YMCA.

Drowning is Silent

It only takes 30 seconds and an inch of water for a child to drown. Keep beginner swimmers within arm's reach.